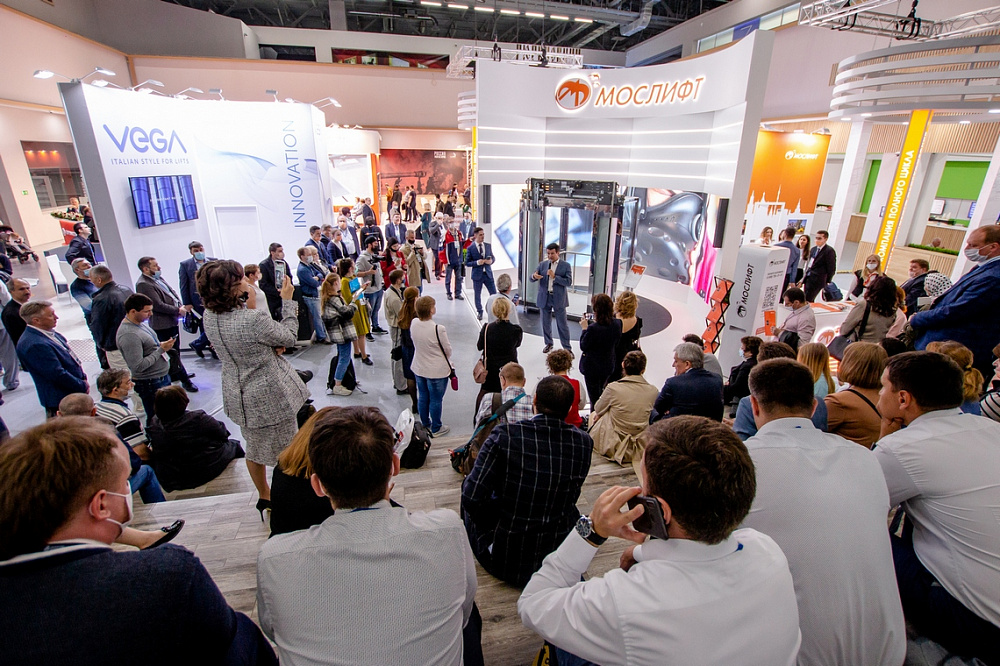 The 10th International Exhibition of Elevators and Elevator Equipment Russian Elevator Week was held in VDNH pavilions No. 55 and 57 from 1 June to 3 June. Companies from ten different countries showcased their products and services in an area of 7,000 square metres. The exhibition was attended by 3,600 specialists. The participants were also awarded diplomas and a Grand Prix for the best inventions in the field of vertical transport.
This year, the main business event of Russia's elevator industry celebrated its anniversary. For the tenth time in a row, the Russian Elevator Week became a platform for companies to demonstrate their entire range of modern elevator and transport equipment and for specialists from different countries to discuss relevant industry topics and exchange professional experience. The event was organised by VDNH and the National Elevator Union.
For three days, the Russian Elevator Week visitors could study and test the latest elevator models and innovations. For instance, Moslift presented a scenic elevator with smart glass that can change its transparency, and a UV recirculator that can suppress the activity of bacteria. Shcherbinsky Elevator Building Plant demonstrated its prototype direct-drive compact energy-efficient hoist, which makes it possible not to build additional mechanical floors in multifamily houses. Evroliftmash introduced a next-generation passenger elevator model and a Premium cabin in an exclusive design.
Germany's Wittur demonstrated an assembled European elevator adapted to Russian shafts, Metallschneider showcased an elevator that allows you to transport cargo without an accompanying person and the Swedish manufacturer Yaskawa presented its newest welding robot, which is used in the production of elevators and metalworking.
The forum Safety and Accessibility of Vertical Transport in Russia became the key event of the exhibition's business programme. Other events included the seminar New Labour Safety Requirements for Lifting Equipment Operation. Changes in Russian Law, presentations of participants and a vertical transport contest.
A professional jury selected laureates and winners in ten nominations. Mogilevliftmash won in the nomination The Best Elevator. The Best Renovation Solution for Major Repairs of Multifamily Houses with its passenger elevator with manually-opened swing doors PVR-0410. Shcherbinsky Elevator Building Plant received an award in the nomination Modern Solutions for the Elevator Industry and Transport & Lifting Equipment for its disinfection system. Karacharovsky Mechanical Plant won in the nomination The Best Solution for New and Renovated Buildings with its exclusive tempered glass cabin with rounded corners, an integrated dynamic lighting system and touch controls. Moslift became the most successful contestant, sweeping awards in six different nominations.